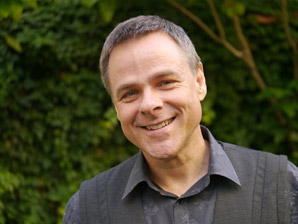 Louis Dunoyer de Segonzac – composer – arranger
Born in 1959, he studied at the Paris Conservatory (CNSMDP) where he earned two First Prizes in oboe and chamber music.
He started his career as an orchestra musician (oboe, english horn) while beginning to compose music for the stage. In 1981, he founded the company Les Musicomediens, together with Maurice Jacquemont, then, in 1985, La Compagnie Fracasse, with Jean-Marie Lecoq. He composed the music for the following musical plays : « Le Roi cerf » (The King Stag -1984), « Le Capitaine Fracasse » (Capitan Fracasse – 1986), « Le Tour du Monde en 80 jours » (Around the world in 80 days – 1987), « Christophe Colomb » (Christopher Columbus – 1990), « Les Empires de la Lune » (Empires of the Moon – 1993), « Les Trois mousquetaires » (The Three musketeers – 1995), « Quichotte & Sancho » (1997), « Le Médaillon brisé » (The Broken medallion – 1998), « Amphitryon » (1998), « La Belle & la Bête » (The Beauty and the Beast – 2000), « Robin des Bois » (Robin Hood – 2001), « Le Pentathlon des Dieux » (The Pentathlon of the gods – 2003), « The Talking bird » (2004), « Hypocondriac 1er, roi de Neurasthénie » (Hypochondriac the first, king of Neurasthenia – 2008), « Le Don » (The Gift – 2008), « The Odyssey » (2011).
Christophe Colomb earned the "1991 Moliere Award" for the best musical show. It was translated into English and performed in three American productions. Le Capitaine Fracasse was translated into German and performed throughout German speaking countries.
In the television field, Louis Dunoyer de Segonzac composed or orchestrated music for more than thirty television films. As music director, arranger and/or composer, he has collaborated with filmmakers such as Claude Chabrol, Laurent Heynemann, Christian de Chalonge,  Denis Malleval, Gérard Jourd'hui, Jacques Santamaria, Philippe Monnier, Philippe Bérenger, Olivier Schatzky and Jean-Daniel Verhaeghe. He was music director for France Televisions' series Chez Maupassant and  Contes et nouvelles du XIXeme siecle (Tales and novels of the XIXth century).
For his work as a composer, Louis Dunoyer de Segonzac was awarded the 1991 Maurice Yvain Prize.
He is also a laureate of the composition competition Pro Lyrica and of the Beaumarchais Foundation.
Louis Dunoyer de Segonzac is currently vice-president of the SACD (the french society of authors and theatrical composers) where he chairs the «Music» commission.
Television movies (broadcasted on France2, France3 and France5 channels)

"unitary" movies
Le Malade imaginaire (The Imaginary Invalid – 2008 – directed by Christian de Chalonge)
Le Bourgeois gentilhomme (The Middle class aristocrat – 2009 – Christian de Chalonge)
Les Méchantes (The Nasty women – 2010 – Philippe Monnier)
George et Fanchette (2010 – Jean-Daniel Verhaeghe)
Les Affaires sont les affaires (Business is business – 2012 – Philippe Bérenger)
La Grande peinture (The Great painting – 2013 – Laurent Heynemann)
Le Boeuf clandestin (The Clandestine beef – 2013 – Gérard Jourd'hui)
Méfions-nous des honnêtes gens! (Beware of honest people! – 2016 – Gérard Jourd'hui)
Contes et nouvelles du XIXe siècle (Tales and novels of the XIXth century)
Le Petit vieux des Batignolles (The Little old man from Les Batignolles – 2008 – Claude Chabrol)
Le Bonheur dans le crime (Happiness in crime – 2008 – Denis Malleval)
La Cagnotte (The Kitty – 2008 – after Labiche – Philippe Monnier)
La Maison du chat qui pelote (At the sign of the cat and racket – 2008 – Jean-Daniel Verhaeghe)
Boubouroche (2009 – Laurent Heynemann)
Claude Gueux (2009 – Olivier Schatzky)
Les Trois messes basses (The Three Christmas masses – 2009 – Jacques Santamaria)
Pour une nuit d'amour (For a night of love – 2009 – Gérard Jourd'hui)
L'Affaire Blaireau (The Badger case – 2010 – Jacques Santamaria)
Le Fauteuil hanté (The Haunted chair – 2010 – Claude Chabrol)
L'Ecornifleur (The Scrounger – 2010 – Philippe Bérenger)
Crainquebille (2010 – Philippe Monnier)
Le Mariage de Chiffon (Chiffon's marriage – 2010 – Jean-Daniel Verhaeghe)
Un gentilhomme (A nobleman 2010 – Laurent Heynemann)
Aimé de son concierge (Liked by his janitor – 2010 – Olivier Schatzky)
On purge bébé (Purging baby – 2010 – Gérard Jourd'hui)
"Chez Maupassant"
Le Cas de Madame Luneau (The Mrs Luneau case – 2011 – directed by Philippe Bérenger)
Une partie de campagne (A Country excursion – 2011 – dir. : Jean-Daniel Verhaeghe)
Yvette (2011 – dir. : Olivier Schatzky)
Mon oncle Sosthène (My uncle Sosthene – 2011 – dir. : Gérard Jourd'hui)
Boule de suif (Tallow ball – 2011 – dir. : Philippe Bérenger)
L'Assassin (The Assassin – 2011 – dir. : Laurent Heynemann)
Le Vieux (The Old man – 2011 – dir. : Jacques Santamaria)
En famille (Family life – 2011 – dir. : Denis Malleval)
Musical books (with CDs)

Gallimard publishing company
Les Vents – Tim et Tom (The Winds – Tim and Tom1995)
Les Coloriés (The Coloured – 2004)
Coco et le tambour (Coco and the drum – 2004)
Microfictions (2008)
Exercices de style (Style exercises – 2008)
Blanche-Neige et autres contes (Snow White and other tales – 2008)
Six contes de Grimm (Six tales by Grimm – 2008)
Peau d'Âne et autres contes (Donkey Skin and other tales – 2009)
La Barbe bleue et autres contes (Bluebeard and other tales – 2009)
Cendrillon (Cinderella – 2010)
La Belle au bois dormant (The Sleeping beauty – 2010)
Le Hardi petit tailleur (The Valiant little tailor – 2010)
Le Vieil homme et la perle (The Old man and the pearl – 2013)
Dodo, Coco ! (Go to bed, Coco! – 2015)
Actes-Sud publishing company
Ma famille en comptines (Family portraits in nursery rhymes – 2001)
Comptines de ma grand-mère (Grandma's nursery rhymes – 2001)
Comptines à croquer à belles dents (Scrumptious nursery rhymes – 2003)
Comptines de ma mère l'oie – Mother Goose, the old nursery rhymes (2007)
Le Don (The Gift – 2008)
La Chemise d'une femme heureuse (The Shirt of a happy woman – 2011)
Mon étoile (My star – 2015)
Other Recordings
Le Capitaine Fracasse – (Capitan Fracasse – Production : Cie Fracasse 1986)
Le Tour du Monde en 80 jours (Around the world in 80 days – Cie Fracasse 1988)
Christophe Colomb (Christopher Columbus – Cie Fracasse 1990)
Les Empires de la Lune (Empires of the Moon – Cie Fracasse 1993)
La Belle & la Bête (The Beauty and the Beast – LNS Productions – 2000)
Robin des Bois (Robin Hood – LNS Productions – 2001)